The database searches identified 6026 unique records (PRISMA flow diagram is provided in Fig. 1). Screening of titles and abstracts identified 1511 potentially relevant records, of which 357 guidelines were identified as eligible for inclusion. Searches of websites of 165 organizations, societies, and colleges identified a further 48 eligible guidelines. In total, 405 guidelines were included in this review (Table 1).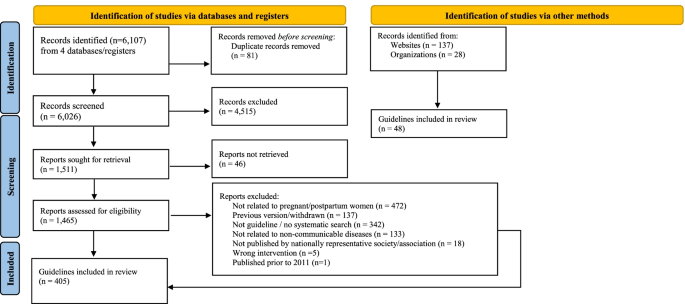 Characteristics of included guidelines
A summary of the characteristics of included guidelines is provided in Table 1, and a further detailed table of characteristics is provided in Additional file 5: Table 1. Of the 405 guidelines, 132 were pregnancy-specific and 273 were general type guidelines. In total, 246 (61%) guidelines were published between 2016 and 2021, and the highest number of guidelines published in 1 year was in 2019 (n=53) (Fig. 2). The countries with highest number of guidelines issued were United States of America (USA) (n=88), United Kingdom (UK) (n=47), Canada (n=29), Australia (n=22), and Italy (n=11). The majority of guidelines were from high-income countries (HICs, n=285), while the remaining 39 guidelines were from middle-income countries (MICs), most commonly Brazil (n=9), China (n=6), Malaysia (n=6), and Thailand (n=3). Other middle-income countries were Georgia, India, South Africa, Argentina, Colombia, Costa Rica, Iran, Kenya, and Romania. There were no guidelines identified from low-income countries. Guidelines were published by a wide range of organizations, including medical specialty societies and organizations from USA (n=67), Europe (n=52), and the UK National Institute for Health and Care Excellence (NICE) (n=11).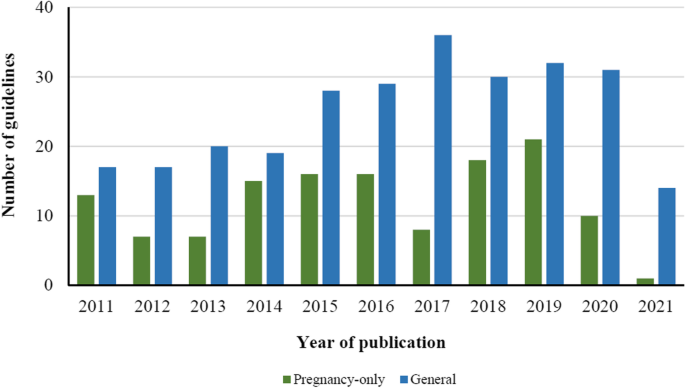 Distribution of guidelines by disease category and condition
The number and distribution of guidelines by disease category and condition are described for pregnancy-specific and general guidelines (Figs. 3 and 4 respectively). In pregnancy-specific guidelines, the most common conditions for which recommendations were provided were GDM, other circulatory diseases, disorders of the thyroid gland, hypertensive disorders of pregnancy, general cardiovascular diseases, and depressive disorders. For general guidelines, common conditions were other circulatory diseases, cervical cancer, disorders of the thyroid gland, inflammatory bowel disease, and migraine/headache. Among the 39 guidelines published from MICs, 13 were pregnancy-specific, and guidelines commonly provided recommendations for cardiovascular diseases [15,16,17,18,19,20], GDM [21,22,23,24,25], rheumatoid arthritis [26], and multiple sclerosis [21].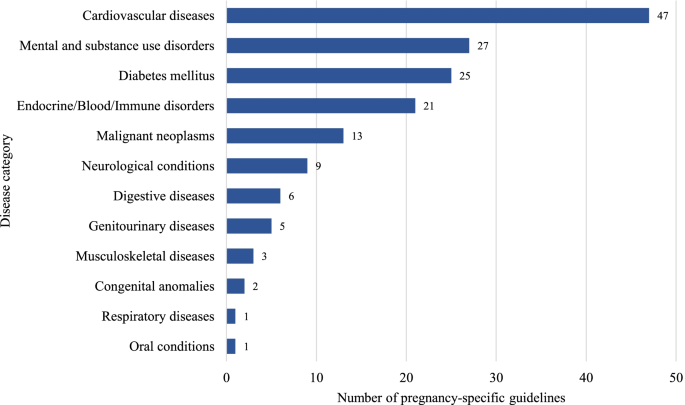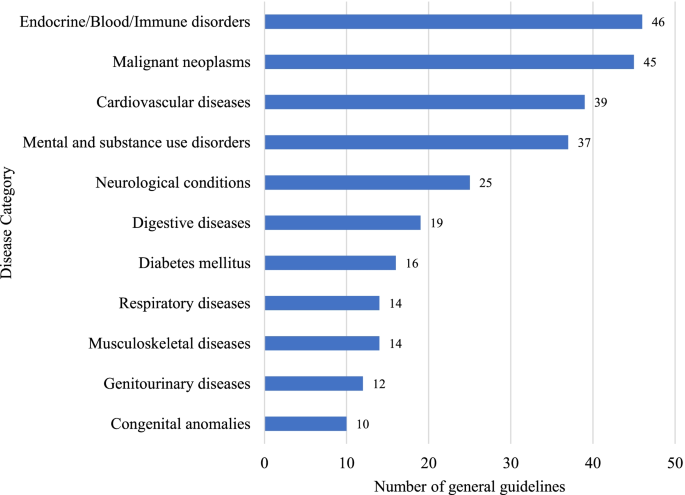 Mapping of recommendations for high-priority NCD conditions
A total of 47 guidelines were identified which related to the high-priority NCD conditions identified by the WHO expert group. From these, we extracted 1834 individual recommendations.
Diabetes mellitus (GDM and pre-existing)
In total, 19 guidelines [21,22,23,24,25, 27,28,29,30,31,32,33,34,35,36,37,38,39,40] published between 2013 and 2019 provide recommendations for management of GDM (Table 2). Guidelines issued by an international or regional body were by Endocrine Society [29], WHO [30], International Federation of Gynecology and Obstetrics (FIGO) [35], and Asociación Latinoamericana de Diabetes [33] (ALAD). The remaining guidelines were from USA [27, 28, 38], UK [36, 37], Germany [32], New Zealand [39], Australia [31], and Canada [34], and six guidelines from MICs (India [21], China [23, 72], Chile [40], Georgia [25], Malaysia [24], and Thailand [22]). From the 19 guidelines, we extracted 449 recommendations, of which 299 (67%) were for screening/diagnostic or clinical interventions during antenatal care, 52 (12%) for intrapartum care, 89 (20%) for postnatal care (Additional file 6: Table 1), and eight were for health system interventions. Several guidelines covered approaches to screening for GDM (universal screening or screening high-risk women only), as well as timing and/or type of screening tests during both antenatal and postnatal care. Clinical interventions included appropriate use of pharmacological therapies, lifestyle education (particularly around nutrition and weight management), and appropriate care during labor and birth (e.g., mode and timing of delivery). More than half of guidelines provided recommendations on self-monitoring and glycemic targets during pregnancy, and indications for lactation. Health systems recommendations covered multidisciplinary care, auditing, and standards for laboratory testing. On comparing guidelines from HICs versus MICs, the guideline scope and interventions covered were broadly similar.
Four guidelines [31, 36, 37, 41] published between 2015 and 2019 provide recommendations for the management of pre-existing diabetes (Table 2). All guidelines were published in high-income countries by governmental or medical associations, including two issued in the UK (NICE [37] and Joint British Diabetes Societies [36]), one from USA (American College of Obstetrics and Gynecology, ACOG [41]), and one from Australia [31]. A total of 283 recommendations were identified across all guidelines. Just under half of these related to interventions during the antenatal period (45%), followed by intrapartum (34%), and the postnatal (19%) period. Only three recommendations for health system interventions were identified, covering aspects of policy and the health workforce. The scope of recommendations for screening and clinical interventions were comprehensive, including types of tests and use of repeat tests, lifestyle advice/education, pharmacological therapy, glucose monitoring and glycemic targets, birth planning, referrals, and newborn care (Additional file 6: Table 2).
Chronic hypertension
We identified 10 guidelines [16, 20, 42,43,44,45,46,47,48,49] published between 2014 and 2021 which provide recommendations for the management of chronic hypertension (Table 2). Only one guideline published by ACOG [47] was specifically developed on chronic hypertension management in pregnancy, while remaining guidelines focused more broadly on hypertensive disorders of pregnancy. All guidelines were issued by medical associations, predominantly from international (International Society for the Study of Hypertension in Pregnancy [45]) or high-income countries such as Australia/New Zealand [50 France [43], Canada [44], Poland [46], USA [47], Ireland [48], and Sweden [49]. Two guidelines identified were from middle-income countries—China and Thailand [16, 20]. Across the 10 guidelines, we extracted 143 recommendations, which mostly related to antenatal (70%) and postnatal care (15%), and the remaining recommendations were for the intrapartum period and health systems interventions. The scope of recommendations provided guidance for definitions and threshold values for diagnosis, appropriate use of antihypertensive therapy, and blood pressure targets (Additional file 6: Table 3). Most recommendations, particularly during intrapartum and postnatal period, were sparse and not supported by more than two guidelines. Guidelines from middle-income countries (China and Thailand) were broadly similar in scope and interventions covered compared to HICs.
Respiratory conditions
Two guidelines provided recommendations for asthma management (Table 2), published in Australia [50] and the UK [51]. The guideline from Australia focused on asthma only (74 recommendations), while the guideline from UK focused on intrapartum care for a range of existing medical conditions, including asthma (two recommendations). Of the 76 recommendations identified for asthma, 54 (71%) were for antenatal care, 20 (26%) for intrapartum care, and two (3%) for postnatal care (Additional file 6: Table 4). No health system recommendations were identified. The focus of recommendations varied and were predominately clinical interventions such as asthma management advice, components of routine care (e.g., monitoring by severity and control, determining frequency of appointments required, medication review, and checking inhaler technique), pharmacological therapy, and management of special situation such as acute exacerbations, or poorly controlled asthma. No guidelines were identified for the management of chronic obstructive pulmonary disease.
Hemoglobinopathies and sickle cell disease
One guideline published in 2011 by Royal College of Obstetricians and Gynecologists [52] provided 136 recommendations for the management of sickle cell disease in pregnancy (Table 2, Additional file 6: Table 5). A comprehensive range of recommendations were provided for screening (type of assessments and tests), clinical care (e.g., components of routine care, pharmacological therapy, acute pain management, birth planning), and health system interventions (e.g., use of clinical protocols, health workforce, referral pathways). No guidelines were identified for the management hemoglobinopathies.
Mental and substance use disorders
A total of 20 guidelines were identified for mental and substance use disorders, which provided recommendations for general mental disorders, bipolar disorder or psychotic disorders [53,54,55,56,57,58], depression and anxiety [53,54,55, 58,59,60,61,62,63, 67], substance use disorders [56, 58, 64,65,66,67,68], alcohol use disorders [58, 65, 69,70,71], and tobacco use [65, 67, 68] (Table 2, Additional file 6: Tables 6-10). All guidelines were developed by international bodies [30, 57, 69] or from HICs (Australia and/or New Zealand [53, 58,59,60, 65], Canada [55, 56, 62, 68], USA [61, 63, 64], and Scotland [54]).
In total, 81 recommendations pertained to general mood disorders, bipolar disorder, psychotic disorder, schizophrenia, and suicide and infanticide risk (Additional file 6: Table 6). Recommendations for screening during antenatal and postnatal period included assessment by personal or family history, and the use of Edinburgh Postnatal Depression Scale (EPDS) for pregnant adolescents. Clinical interventions covered the development of an individualized treatment plan, pharmacological treatment, and referrals to psychiatric services. At the health system level, involvement of a multidisciplinary care team (psychiatrists, gynecologists, pediatricians, and midwives) were recommended. One guideline specified the need for a nationally managed clinical network for perinatal mental health which should coordinate provision of services, establish pathways for referral and management, and establish competencies and training resources for health professionals. No recommendations were identified relating specifically to the intrapartum period.
For depression and anxiety, 256 recommendations covered psychosocial assessment using tools such as EPDS, pharmacotherapy (risk-benefit analysis, medication review, and dosage adjustment), and psychotherapy (e.g., cognitive behavioral therapy, interpersonal psychotherapy) (Additional file 6: Table 7). Recommendations for women at high risk—such as suicidal or severely depressed—included involvement of partner support, and appropriate use of home treatment or hospitalization. Further clinical assessment were also recommended, including referral to psychiatric services, and actively supporting women to use mental health services and counselling interventions. During the postnatal period, recommendations for breastfeeding included indications and possible risks associated with pharmacotherapy. Additionally, recommendations covered neonatal monitoring for adverse effects associated with maternal use of psychoactive therapeutic agents. At the health system level, recommendations focused on availability of local guidelines, establishing health provider competencies, ensuring service availability for diagnosis and treatment, and providing education and training for involved health professionals.
The breadth of interventions for substance use disorders varied by the type of substance (Additional file 6: Table 8). A total 186 recommendations covered interventions for screening and routine assessment, as well as specific recommendations for the management of women using amphetamines, benzodiazepines, cannabis, opioids, and psychostimulants. Compared to other high-priority conditions, health systems made up a relatively higher proportion of recommendations (12%) and covered the roles of case managers in coordinating care between multiple services (drug and alcohol services, family support services, general practitioners, probation and parole services, and community welfare organizations), statutory reporting, liaising with child protection agencies, and ensuring the availability of services for treatment and relapse protection programs.
For tobacco use, two guidelines were identified which provided 33 recommendations (Additional file 6: Table 9). For alcohol use disorders, six guidelines were identified which provided 122 recommendations (Additional file 6: Table 10). Recommendations mainly covered screening and clinical interventions during the antenatal and postnatal periods. For tobacco use, recommendations included universal assessment of smoking status, maternal education on the harmful effects of smoking and advice for smoking cessation, engaging with partners for support, providing psychosocial and/or pharmacotherapy interventions, and strategies for relapse prevention and management. For alcohol use disorders, screening using validated questionnaires such as the Alcohol Use Disorders Identification Test was recommended, as well as interventions to provide advice on abstinence, managing alcohol withdrawal syndrome, indications for breastfeeding, and conducting assessments and monitoring for fetal alcohol spectrum disorder. For both conditions, health system recommendations included ensuring availability and access for prevention and management services across existing sexual, reproductive, and childcare, or by community-based interventions. No clinical interventions were recommended during the intrapartum period.
https://bmcmedicine.biomedcentral.com/articles/10.1186/s12916-022-02508-9